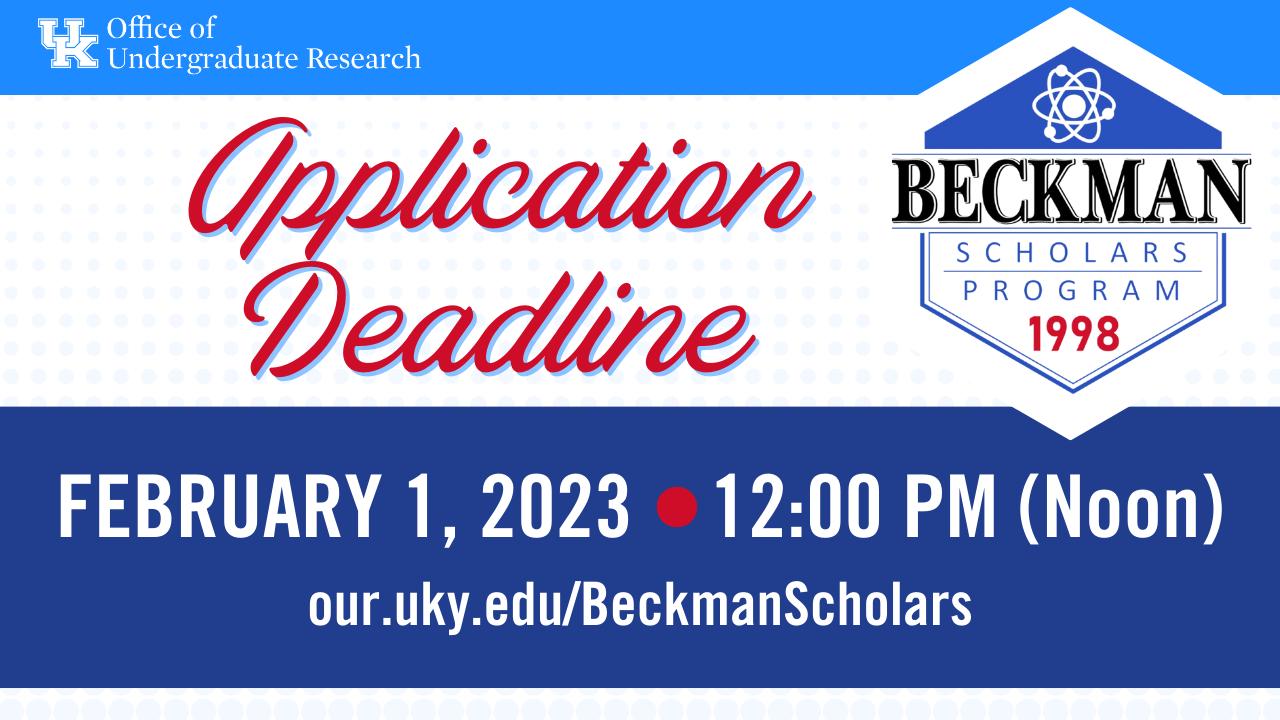 Beckman Scholar Application Deadline
All materials due by 12 PM (Noon)
APPLICATION DETAILS
The Beckman Scholars SUCCESS program welcomes applications from all undergraduate students. As part of the SUCCESS Scholars program, we seek to enhance the educational benefits of a diverse student body. 
** All materials, including letters of recommendation, must be submitted by 12 p.m. (noon) on February 1, 2023. Please do not wait to submit your application.
Complete online application 

Note: The application will NOT be saved until submitted - applicants must complete the application in its entirety, including uploading all required documents. Once the application is submitted no further changes can be made. 

Resume/CV   (2-page maximum)

 An unofficial UK transcript

 Two-page personal statement describing previous research experience, post-baccalaureate education and career goals, and how SUCCESS will help applicant achieve those goals.

 Three-page research proposal, developed by the candidate, describing the importance of the research project, a clear hypothesis statement, description of research aims, experimental design, and expected outcomes.

 One-page statement describing how you will contribute to the diversity and inclusivity of the program, your views on service, and a commitment to pursuing excellence in these endeavors as a Scholar and beyond.

 Two letters of recommendation, with one from the selected mentor, describing their commitment to the candidate's professional and personal development. 

Applicants must share the upload link with those providing letters of recommendation. Letters of recommendation must be uploaded by 12:00 p.m. (noon) on February 1, 2023.

Beckman Scholar applicants must be accepted by one of the Beckman Scholars Program Mentors. Students must discuss their interest in applying to the Beckman Scholars program and develop their project idea with the Mentor. 
BSP Scholars will be notified on April 1, 2023 or before. The official BSP program for the scholar will begin in May 2023. 
REQUIRED CRITERIA FOR APPLICANTS
Scholars must be full-time students and remain in good academic standing, intending to pursue an advanced science degree or other scientific pursuits.

Beckman Scholars must be citizens, permanent residents, or DACA recipients of the United States or its possessions.

Scholars will pursue their independent research project under the auspices of an approved full-time faculty Mentor, as identified in the application.

Must commit to the full 15-month continuous research program from May 2023 through August 2024

10-weeks during summer 2023 and summer 2024 at 40-hours per week

10-hours per week during fall 2023 and spring 2024 semesters

Attend the Beckman Scholars Annual Conference in August 2023 and present in August 2024