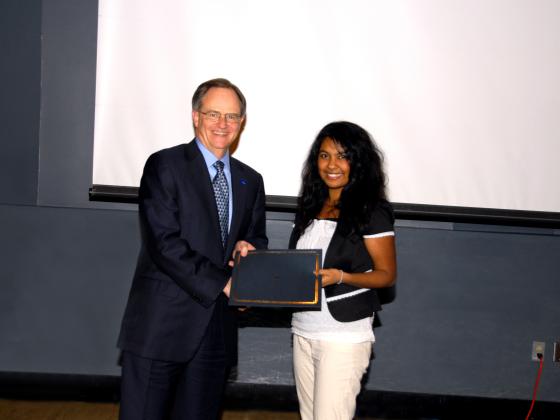 1999
In 1999, the Office of the Vice President for Research created the Office of Undergraduate Research, supporting research faculty mentors and UK undergraduate students.
2002
In 2002, UK Office of the President (Dr. Lee Todd) and the Office of the Vice President for Research (Interim Dr. Jim Boling) jointly created a summer research program designed to pair underrepresented minority students with researchers that would provide summer help for this designated research faculty group. Over the past 17 years, the program has emerged into a research faculty-focused program that provides funded student support for research activity.
2004
In 2004, Undergraduate Studies created the Experiences for Undergraduates and Kreative Activities (eUreKa) Office that operated in parallel to the Office of Undergraduate Research.
2006-2007
The two offices were merged in 2006-2007, forming the current office under the name of Office of Undergraduate Research (UGR). At that time, UGR became an "enhanced institutional member" of the Council on Undergraduate Research (CUR), based in Washington, DC, granting all UK faculty CUR membership access at no additional cost.
2014
In 2014, the Office of Undergraduate Research hosted the National Conference on Undergraduate Research (NCUR) at the University of Kentucky with a total of 4,133 in attendance. 
2014
The Office of Undergraduate Research partners with the Student Sustainability Council to co-sponsor the Sustainability Summer Research Fellowship program. Summer Sustainability Fellowships are awarded May/June up to $2500 per student. This award encourages students to get involved with research that is advancing economic vitality, ecological integrity, and social equity. The program has grown expeditiously. A new extension to the summer program being implemented in 2018, the Intercollegiate Sustainability Research Experience (ISRE), $4500. These awards were modeled from the NSF's National Research Experience for Undergraduates (REU). Students work alongside UK Alumni faculty at other universities conducting sustainability research.
2014 - 2018
From 2014-2018, the Office of Undergraduate Research, in partnership with the College of Medicine (originally Dr. Rebecca Dutch) and the Office of International Student & Scholar Services (Elizabeth Liebach), hosted the University of Kentucky (UK) Summer Program for International Research Internship and Training (SPIRIT). The seven-week program was designed to facilitate mentorship placements of medical students from Alfaisal University in Riyadh Saudi Arabia. 
2018
In 2018, the Office of Undergraduate launches the 5-Minute Fast Track Research Competition. The 5-Minute Fast Track is an academic competition that cultivates students' presentation and research communication skills, and challenges them to describe their research within five minutes. The goal of this competition is to improve students' abilities to communicate their undergraduate research effectively to a general audience while creating a compelling story about their scholarly work.
2020
Due to measures taken around COVID-19, the Office of Undergraduate Research hosted its first-ever Virtual Showcase of Undergraduate Scholars. The four-day Virtual Showcase event offered 144 student research presentations and 7 campus partner spotlights. 
2021
In 2021, the central Office of Undergraduate Research underwent restructuring.  Please see the communication from Dr. Lisa Cassis, Vice President for Research on this process.  
Dr. Chad Risko announced as faculty director of the Office of Undergraduate Research. View the formal announcement here.
Launched the first annual Sustainability Research Poster Competition in partnership with UK Sustainability and UK Student Sustainability Council. 
Undergraduate Research Student Experiences.