With funding from the Arnold & Mabel Beckman Foundation, the University of Kentucky (UK) is proud to host the Beckman Scholars Program titled Scholars United by Chemistry: Cultivating Excellence through Science Stewardship (SUCCESS).
A highly multidisciplinary program, SUCCESS is built on the cornerstone of chemistry as the central science that unites UK's Research Priority Areas, established to serve the pressing needs of Kentuckians and the nation. Through SUCCESS, six UK undergraduate students will become Beckman Scholars and be supported and mentored in a 15-month independent research project covering two summers and the intervening academic year. Signifying the diversity of programs that UK offers, UK's SUCCESS program is the result of an intensive, multi-faceted collaboration involving the Office of Undergraduate Research, Office of Philanthropy, Proposal Development Office, College of Agriculture, Food and Environment, College of Arts and Sciences, College of Engineering, College of Medicine, Center for Applied Energy Research, Sanders-Brown Center on Aging, Spinal Cord and Brain Injury Research Center, and the James B. Beam Institute for Kentucky Spirits.
SUCCESS is driven by an ethos of stewardship, wherein mentors will cultivate both the professional and personal development of UK's Beckman Scholars. Increasing diversity, enacting equity, and growing a culture of inclusivity were cornerstones in the design of SUCCESS. Our commitment to these values is rooted in a significant reaffirmation and transformation of UK's comprehensive, University-wide approach to diversity, equity, and inclusion (DEI).  Within this environment, SUCCESS will focus on developing inclusive leadership skills to prepare UK Beckman Scholars for roles in an ever-diversified scientific landscape.
SUCCESS is built on the cornerstone of chemistry and its impact on UK's Research Priorities Areas (RPAs) supported by the Office of the Vice President for Research:
Cancer

Cardiovascular Health

Diabetes & Obesity

Diversity & Inclusion (UNITE)

Energy

Neuroscience

Substance Use Disorder (SUPRA)
These areas were chosen based on local relevance, existing funding strength, sustainability, and disciplinary scholarly diversity.
SCHOLAR BENEFITS
At the University of Kentucky, each Beckman Scholar will:
Receive $18,200 in stipend support, $2,800 for research supplies and travel, plus $5,000 in support goes to their research mentor for further help with developing a mentor and research plan and supplies over a 15-month period.

Receive 1:1 research and career mentoring from their faculty research mentor.

Participate in the UK Summer Scholars Programs and be provided travel and lodging to the annual Beckman Scholars Research Symposium and other conference opportunities. 

Become and be connected with Beckman Scholars alumni who now hold research and professional positions worldwide.
There will be two scholar awards in each of Year 1 (2022-2023), Year 2 (2023-2024), and Year 3 (2024-2025).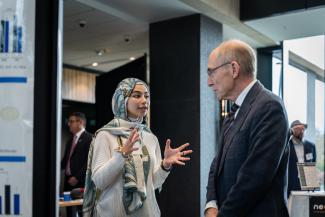 SCHOLAR REQUIREMENTS AND EXPECTATIONS
SUCCESS values and raises ability both within and beyond the laboratory to prepare Scholars for long-term achievements. Each Scholar must:
Perform research activities part-time (10 hours per week) during one academic year, and full-time (ten 40-hour weeks) over two consecutive summers.

Complete required training and professional development series.

Complete at least one outreach or service activity during the academic year.

Participate in the SUCCESS Roundtable series.

Present at the UK Showcase of Undergraduate Scholars in April 2024.

Attend one Beckman Scholar Symposium.

Complete mid-program and end-of-program surveys.