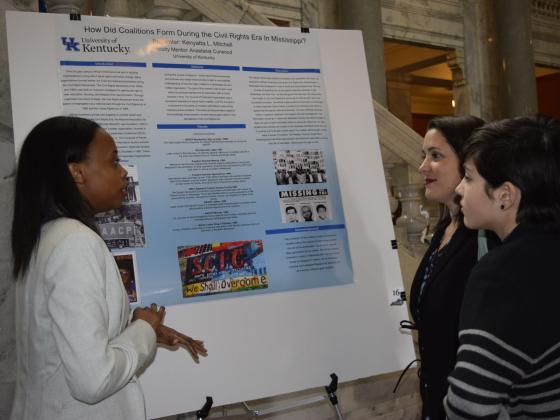 Posters-at-the-Capitol
Presentation Opportunity
What is Posters-at-the-Capitol?
Posters-at-the-Capitol (P@C) is a one-day, annual event held to educate Kentucky State Legislators of the importance of its undergraduate research and scholarly work. Student discoveries impact many issues that affect our economy both stateside and globally.  
What is the mission of P@C?
Help increase the understanding of the important role undergraduate research plays in the education of our students among those responsible for higher education funding in KY
Who attends P@C?
16 students from each of 8 state higher education institutions within Kentucky 
When
Thursday, March 3, 2022 
Where
Frankfort, KY State Capitol Building
In recent years, the number of undergraduate student applicants has increased twofold, therefore inevitably creating a "competition" to present at Posters-at-the-Capitol.  While this is very encouraging for the sustainability of undergraduate research, it has also made the selection process very challenging. Below are general guidelines to assist students, faculty, and administrators in the preparation of an application and in the selection process.
Submission Details
Step 1 - Register on P@C website (create a new account if you have never submitted to P@C before)

Step 2 - To submit an abstract, go HERE and click on "Submit to Posters-at-the-Capitol" in the menu on the left under Author Corner.  

Step 3 - Faculty Endorsement Checklist completed by faculty mentor. Each Posters-at-the-Capitol submission requires a faculty endorsement checklist to be submitted separately from the abstract.

Abstracts will be accepted from ALL disciplines. A limited number of poster spaces are awarded to each institution. This number varies depending on the total number of abstracts submitted state-wide each year. An internal selection committee will decide on the number of attendees from UK, based on the list of those accepted by the state-wide committee. Top abstracts from students in good standing will be accepted by an internal review board to represent the University of Kentucky.
Abstracts
Posters-at-the-Capitol requires abstracts to be no more than 300 words. 

An abstract is a concise statement of the major elements of a research project and/or scholarly work. It should contain an introduction; a purpose, objective or hypothesis; results of the project if it is complete; and conclusions drawn from what was learned. Abstracts should be written in past tense (with the understanding that at the time of submission your work may still be in progress). Avoid technical jargon and define all abbreviations. Use of the term "we" is appropriate, rather than "I".

Posters-at-the-Capitol requires all projects to have results to show. In other words, research projects that are in progress and do not yet have any results, will not be accepted.

References are NOT included in an abstract. Be sure the abstract is:

Complete: Covers all major parts of the project

Concise: No excess or unnecessary information

Clear: Is readable and well organized

Cohesive: Flows smoothly and is grammatically sound
Seek faculty advisor review and approval of the abstract before submitting.
Timeline
Call for Submissions: September 1, 2021

Submission Deadline: December 12, 2021

Poster Printing Deadline: February 22, 2022

Event Date: Thursday, March 3, 2022   *in-person
Selection Guidelines
Applications will be reviewed by members of the Undergraduate Research Oversight Committee, using a rubric defined for this application. The quantitative assessment, statements from the mentor's endorsement, and discussions among the faculty reviewers will be considered collectively to determine a final ranking for each application.  This committee is external to the University of Kentucky.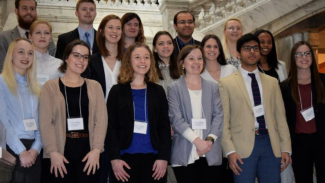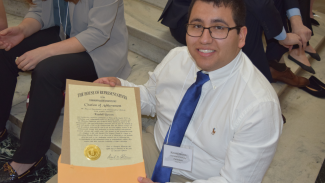 Posters-at-the-Capitol Student Presenters
Poster Templates
Are you presenting at Showcase and need to create a poster? Lots of editable poster templates are available in both traditional and Morrison formats, as well as vertical and landscape layouts. So many options for you to choose from and 100% editable to meet your needs!
Research Poster Templates
Free collection of easy to use and customize PowerPoint research poster templates. Both modern and traditional templates available.