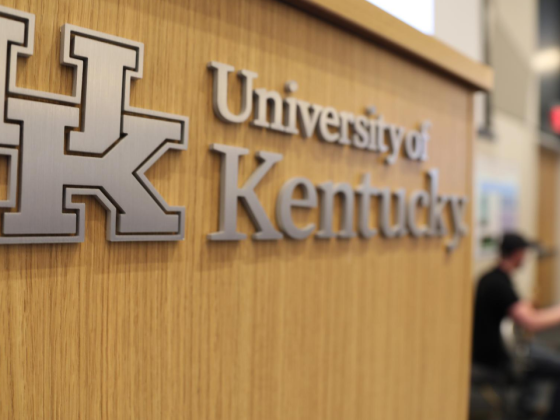 Faculty Mentor of the Year Award
The Excellent Undergraduate Research Mentor Award recognizes UK faculty members who have demonstrated an outstanding commitment to mentoring undergraduate researchers, provided exceptional undergraduate research experiences, as well as supporting and promoting the undergraduate research initiatives on campus.  
Each year, outstanding faculty mentors are recognized at the Showcase of Undergraduate Scholars for their outstanding leadership and support of students. Students may nominate their faculty mentor for the award HERE.
Nominations open March 1, 2021
Deadline: April 6, 2021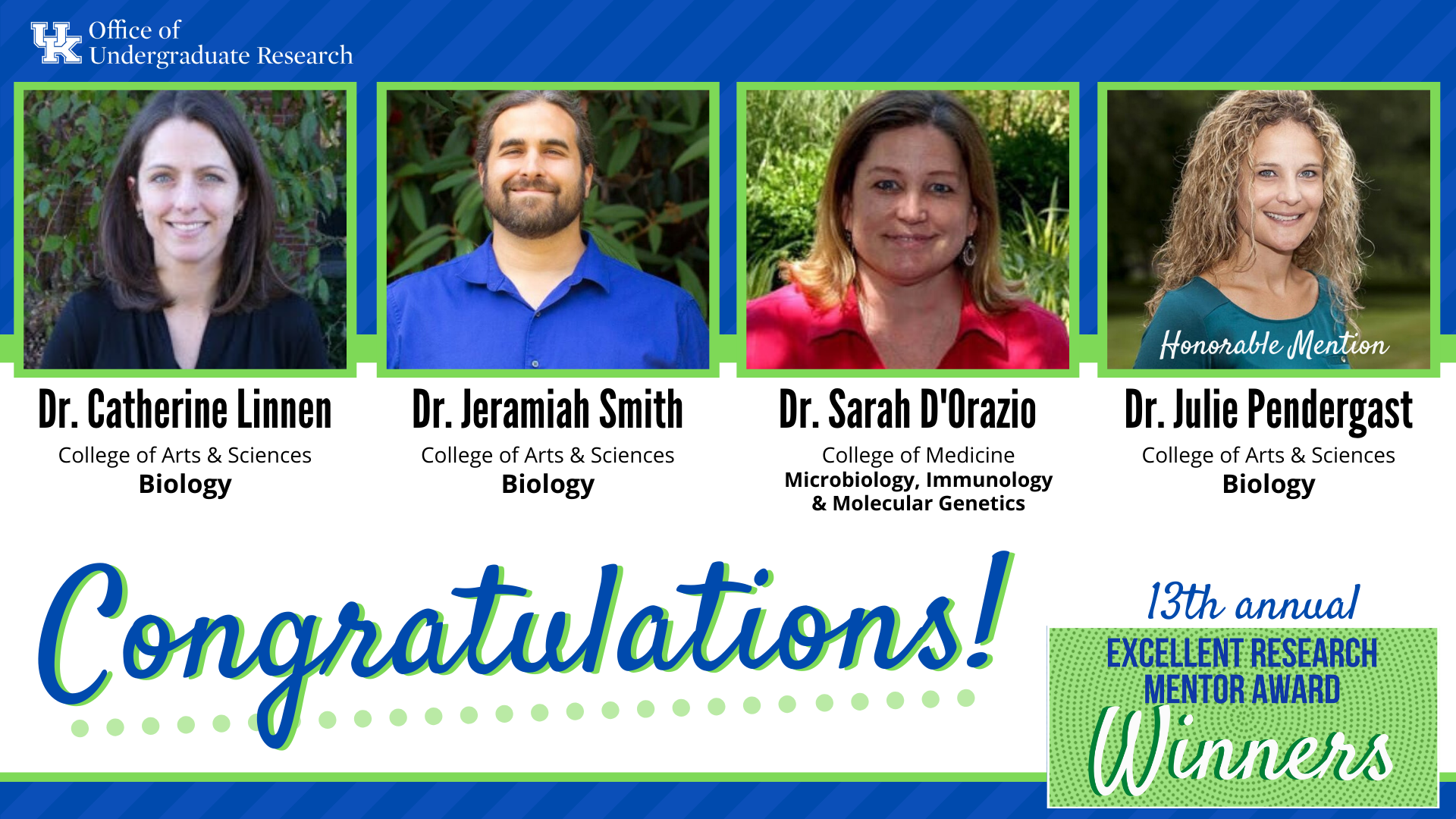 PREVIOUS FACULTY MENTOR OF THE YEAR AWARD WINNERS
2019 Excellent Undergraduate Research Mentors
2018 Excellent Undergraduate Research Mentors
Luke Bradley - Associate Professor of Neuroscience and Molecular and Cellular Biochemistry; College of Medicine
Janice Fernheimer - Associate Professor of Writing, Rhetoric, and Digital Studies; College of Arts and Sciences
Greg Luhan - Endowed Professor of Architecture; College of Design
2017 Excellent Undergraduate Research Mentors
Joshua Beckmann - Associate Professor of Psychology; College of Arts and Sciences
Susan Odom - Associate Professor of Chemistry; College of Arts and Sciences
2016 Excellent Undergraduate Research Mentors
2015 Excellent Undergraduate Research Mentors
Kristin Ashford - Professor of Nursing; College of Nursing
Robin Cooper - Professor of Biology and Neuroscience; College of Arts and Sciences
2014 Excellent Undergraduate Research Mentors
Event not held due to hosting the National Conference on Undergraduate Research (NCUR) at UK 
2013 Excellent Undergraduate Research Mentors
Zach Hilt - Professor of Chemical and Materials Engineering; College of Engineering
Richard Smith - Professor of Psychology; College of Arts and Sciences
2012 Excellent Undergraduate Research Mentors
Kimberly Anderson - Professor of Chemical and Materials Engineering; College of Engineering
Nadine Kabengi - Assistant Research Professor of Plant & Soil Sciences; College of Agriculture, Food and Environment
David Atwood - Professor of Chemistry and Environment and Sustainability Studies; College of Arts and Sciences
2011 Excellent Undergraduate Research Mentors
Trevor Creamer - Professor of Molecular & Cellular Biochemistry; College of Medicine
A. Gwynn Henderson - Assistant Professor of Anthropology; College of Arts and Sciences
2010 Excellent Undergraduate Research Mentors
David Rogers - Associate Professor of Molecular & Cellular Biochemistry; College of Medicine
Chana Akins - Professor of Psychology; College of Arts and Sciences
2009 Excellent Undergraduate Research Mentors
Diane Snow - Professor of Anatomy and Neurobiology; College of Medicine
Elzbieta Wala - Associate Professor of Pharmaceutical Sciences; College of Pharmacy
Honorable Mention: Tammy Stephenson - Associate Professor of Dietetics and Human Nutrition; College of Agriculture, Food and Environment
2008 Excellent Undergraduate Research Mentors
Faculty Mentors in the News