22
Undergraduate Research Ambassadors
Congratulations to the 2022-2023 Undergraduate Research Ambassadors! This year's outstanding group represents 6 colleges, 15 disciplines, and 18 research areas.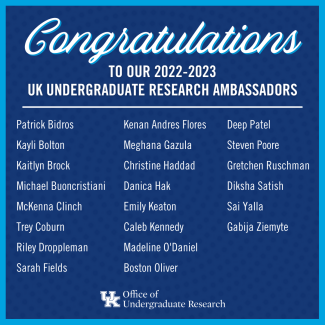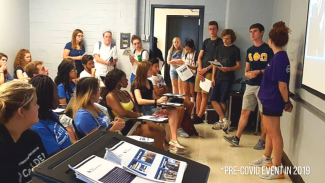 Undergraduate Research Ambassadors (URAs) are a multi-disciplinary, diverse team of students that serve a central role as advocates for undergraduate research and creative scholarship at the University of Kentucky. The goal of the URA program is to increase awareness and create opportunities for students to actively engage in research and creative scholarship. URAs facilitate this goal by providing presentations to the campus community, creating relevant workshops and programming, and representing OUR at research, recruiting, and outreach events.
UK's Research Ambassadors have a passion for promoting undergraduate research and creative scholarship and helping students connect with research opportunities.
WHAT DO RESEARCH AMBASSADORS DO?
Represent the Office of Undergraduate Research (OUR), respective college, and the university in a knowledgeable and professional manner

Promote undergraduate research involvement and opportunities

Assist with student-focused outreach and program events, such as tabling, information sessions, and student workshops

Assist at OUR sponsored events (i.e. Showcase, 5-Minute Fast Track) and respective college events

Participate in speaking engagements (i.e. Parent & Family Weekend, Entrepreneur Showcase, Curiosity Fair, BBN Orientation)

Give presentations to classes and student organizations

Serve as student advisory board and provide critical feedback about OUR programs and initiatives
BENEFITS OF BEING A RESEARCH AMBASSADOR
Share your research skills with aspiring researchers

Develop strong leadership, public speaking, presentation, and teambuilding skills

Expand your professional network

Be involved in shaping Undergraduate Research programs at UK

Add a great resume-building experience

Receive an OUR Ambassador shirt and name tag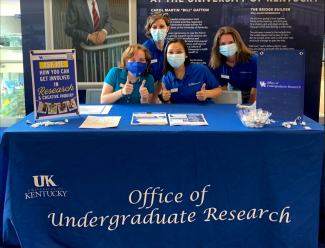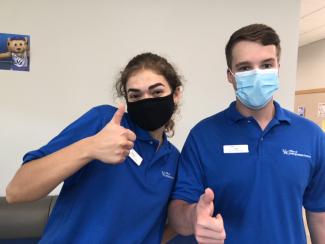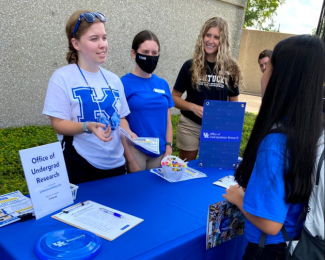 ELIGIBILITY AND GUIDELINES
Full-time enrollment as an undergraduate for 2022-23 in good academic standing

Must have at least two (2) terms of research experience (fall, spring, summer)

Strong oral/written communication skills, leadership skills, and work ethic

Ability to provide an encouraging, supportive environment for diverse groups of individuals

Application is open to students in ALL majors

Must commit to one (1) academic year term

Must commit to continue research in the academic year as an active peer mentor

Must attend mandatory training March 29- 30, 2022 and meetings every month. Failure to attend the entire training in March will result in the student losing their ambassador position, as this is the only orientation and extensive training offered. 

Must comply with the University of Kentucky Code of Conduct

Time commitment of 10 hours per semester outside of URA meetings every month. Most events last 1-hour and require multiple ambassadors.
APPLICATION PROCESS
Upload current Resume/CV

Upload Photo

Letter of Recommendation from a research mentor that speaks to your experience as a researcher and student leader. Mentors can email their letters directly to the office (ugresearch@uky.edu). 

2 Short-answer Essay Questions
AMBASSADOR SELECTION TIMELINE FOR 2022-2023
Application Opens: February 15, 2022

Application Deadline: March 15, 2022 by 11:55 pm EDT

URA Program Interest Sessions:  February 10, 2022  OR  March 2, 2022   @ 6-7 PM

Ambassador Meet & Greet Social: March 8, 2022 @ 5:30 - 6:15pm;  Room 211 Funkhouser

Interviews: March 21-22, 2022 

Announcement of Selection Results: March 25, 2022

Mandatory Ambassador Training: March 29 - 30, 2022;  5-7:30 PM both days 

*Failure to attend the entire training will result in the student losing their ambassador position, as this is the only orientation and extensive training offered.  

Ambassador Leadership Training: August 17, 2022; 9:30 AM - 4:30 PM
University Community of Inclusion
The University of Kentucky is committed to a diverse and inclusive workforce by ensuring all our students, faculty, and staff work in an environment of openness and acceptance. We strive to foster a community where people of all backgrounds, identities, and perspectives can feel secure and welcome. We also value the well-being of each of our employees and are dedicated to creating a healthy place to work, learn and live. In the interest of maintaining a safe and healthy environment for our students, employees, patients and visitors the University of Kentucky is a Tobacco & Drug Free campus.