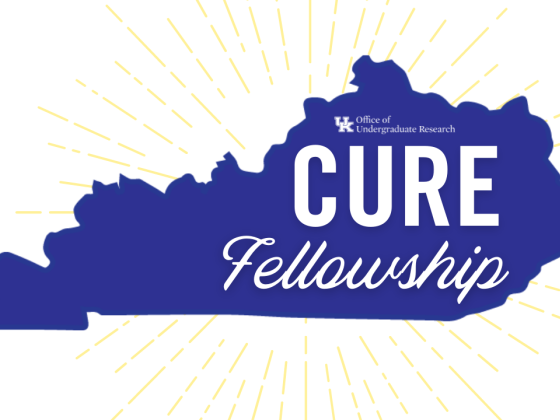 Commonwealth Undergraduate Research Experience (CURE) Fellowship
Paid Research Opportunity for UK Undergraduates
The Commonwealth Undergraduate Research Experience (CURE) Fellowship, sponsored by the University of Kentucky Office of Undergraduate Research (OUR) and Research Priority Areas (RPA) supported by the Office of the Vice President for Research, seeks to ensure the inclusion of a diverse population of undergraduate students pursuing mentored research in areas defined to be of critical importance to Kentuckians and the Commonwealth.
Application Deadline: March 1, 2022 by 11:55 PM EST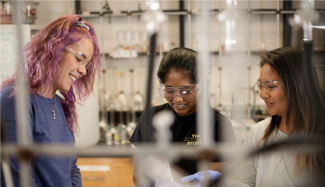 By providing opportunities to discover, invent, create, and develop new knowledge and skills, the CURE Fellowship will empower undergraduates to become informed citizens and leaders for their respective communities. Multiple CURE Fellowships will be awarded for each RPA.
CURE Fellows will receive a $3,000 stipend for the Summer 2022 period.
PARTICIPATING RESEARCH PRIORITY AREAS
Contact Cancer Education Coordinator Erin Oakley for assistance with finding a mentor. Email: Erinjoakley@uky.edu. Phone: 859-323-0474
* multiple CURE Fellowships will be awarded for each RPA
Student Applicant Eligibility
The CURE Fellowship welcomes applications from all UK undergraduate students, with preference given to those who identify with one or more of the following backgrounds that have been recognized as being underrepresented* or protected**:
Individuals from racial and ethnic groups that include Blacks or African Americans, Hispanics or Latinos, American Indians or Alaska Natives, Native Hawaiians and other Pacific Islanders.

Individuals with disabilities, who are defined as those with a physical or mental impairment that substantially limits one or more major life activity.

Individuals from disadvantaged backgrounds, including: were or currently are homeless; were or currently are in the foster care system; were eligible for the Federal Free and Reduced Lunch Program for two or more years; have/had no parents or legal guardians who completed a bachelor's degree; were or currently are eligible for Federal Pell grants; received support from the Special Supplemental Nutrition Program for Women, Infants and Children (WIC) as a parent or child; or grew up in either i) a U.S. rural area, or ii) a Centers for Medicare and Medicaid Services-designated Low-Income and Health Professional Shortage Areas.

Protected groups not noted above, including veteran or active military status, religion, sex (including pregnancy, sexual orientation, or gender identity), national origin, age (40 or older), and genetic information (including family medical history).
Relevant Experience
CURE Fellowship applicants will have a declared major or pertinent background in a field of relevance as identified by the RPA.
Application Process
It is necessary to submit an application if you are applying for the CURE Fellowship. 
Application Deadline: March 1, 2022 by 11:55 PM EST
Connect with a Mentor + Application Process
Review the Research Priority Areas (RPA) to find a broad area of interest to you.

Identify potential mentors within the RPA. Links to each RPA are included in the participating RPA list above. To apply to work with a specific mentor, please contact that mentor directly.   If you are currently working with a mentor, confirm if they are connected with a participating RPA.

A brief proposal is required for application to the CURE Fellowship program. Once connected with a faculty or staff research mentor, you will need to craft a 300 - 1,000 word proposal that provides a brief description of the summer research project. View proposal format and guidelines here.  

Faculty or Staff Research Mentor's Letter of Support.  Upload letter of support HERE. Due by 11:55 p.m. ET on March 6, 2022.
If you need assistance identifying a potential mentor, the Undergraduate Research Ambassadors host weekly Virtual Drop-In Peer Advising sessions on Zoom from 10am - 12pm. View the schedule here. 
Faculty or Staff Research Mentor's Letter of Support
Confirmed UK faculty or staff research mentor for the duration of the CURE Fellowship. The research mentor will provide a letter i) confirming their intent to mentor the CURE Fellow and ii) that they are able to support the proposed CURE Fellow research activities. If the CURE fellow intends to work remotely during the summer, the letter should provide details about how progress will be monitored.
You can upload your letter of support HERE. Due by 11:55 p.m. ET on March 6, 2022.
Fellowship Requirements
Complete a Pre- and Post-Experience Survey

Midsummer Check-in Photos (July 2022)

Participation in the OUR Summer Research Fellows Symposium (August 2022)

Final Report at the end of the Summer 2022 term (August 2022)

Present research at the Showcase of Undergraduate Scholars (April 2023)
JULY 8, 2022 - Midsummer Check-in Photos Due
AUGUST 15, 2022 - Final Report Due