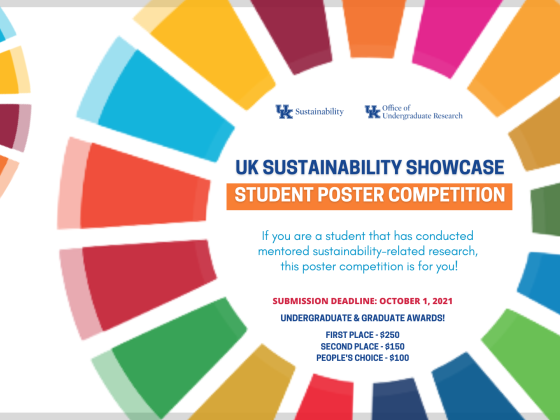 Sustainability Research Poster Competition
Presentation Opportunity. Cash Prizes.
Graduate and undergraduate students are invited to submit an abstract and poster in a new sustainability research poster competition held in conjunction with the annual UK Sustainability Showcase on Tuesday, October 5, 2021 from 5:30 - 7:30 PM.
UK Sustainability and the Office of Undergraduate Research are partnering to offer an opportunity for students in all majors to submit their sustainability-related research as a poster for a general audience. Judges with relevant expertise will review all posters and winners will be selected for both undergraduate and graduate categories.
Registration Deadline: October 1, 2021 by 11:55 PM EDT
Maximum of 50 posters allowed (25 undergraduates / 25 graduates)

Awards for both Undergraduate and Graduate Students:
1st Place = $250

2nd Place = $150

People's Choice Award = $100
Award winners will be announced during the UK Sustainability Showcase on October 5, 2021 at 5:30pm in UK's Cornerstone Exchange.
The People's Choice Awards will be voted on during the Showcase event and announced at the awards ceremony, as well. Students will have the opportunity to present their posters during the UK Sustainability Showcase.

Posters will be judged according to the following criteria:
Content (poster demonstrates clarity of topic, objective, and background)

Motivation for research and technical relevance to sustainability 

Methodology and approach to problem 

Quality of proposed research results/findings 

Conclusions are supported by information presented 

Poster presentation (display aesthetics and logical flow between sections) 

Understandability (poster is effective even without student explaining it)

Overall rank versus other posters in each category