You don't have to wait to graduate to make an impact. Discover what's wildly possible with undergraduate research!
As UK is a Research I institution, UK undergraduates have access to outstanding research and creative scholarship activities led by world-class faculty and staff. By pursuing mentored research and creative scholarship, UK undergraduates can immerse themselves in projects to gain experiential "hands-on" learning that is translatable to real-world skills.
 MONDAY, SEPTEMBER 11, 2023
11:00 AM – 1:00 PM  |  Gatton Student Center Social Staircase
The Undergraduate Research + Creative Experience Expo will introduce undergraduate scholars to the diversity of research conducted at UK, allow students to network with research faculty and staff, and learn about mentored research opportunities.
Table reservation is now closed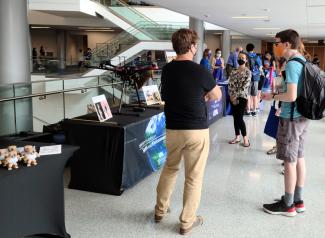 Goals for the Research Experience Expo.
Increase awareness of research and creative opportunities available to undergraduates.

Connect faculty with interested students.

Showcase current faculty research and creative experiences.

Recruit for competitive research programs.

Facilitate an inclusive research and creative campus environment by connecting underrepresented students to opportunities on and off-campus.
The following Colleges, Departments, Centers, and Programs will have representatives available to speak to students at this event: