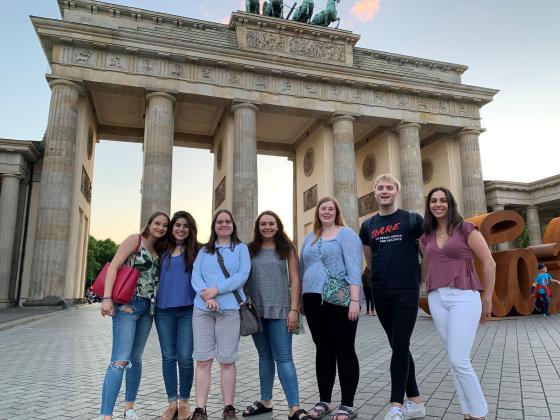 Student Experiences and Photo Galleries
Research can be fun - it fuels student creativity and curiosity and allows you to follow your passion.
You don't have to wait to graduate to make an impact. Discover what's wildly possible with undergraduate research!
Hudson, Lauren - listed as First Author in publication
Lauren Hudson, Neuroscience and Biology, Sophomore - listed as First Author in publication.
Hudson, L., Samons, K. M., Dicken, H. E., Prichard, C., Weiss, L. T., Edward, J., Vanderpool, R. C., & Vanderford, N. L. (2020). A Brief Educational Intervention Enhances Basic Cancer Literacy Among Kentucky Middle and High School Students. Journal of cancer education : the official journal of the American Association for Cancer Education, 10.1007/s13187-020-01696-3. Advance online publication. https://doi.org/10.1007/s13187-020-01696-3 
Abstract
Kentucky experiences the highest overall cancer incidence and mortality rates in the USA with the greatest burden in the eastern, Appalachian region of the state. Cancer disparities in Kentucky are driven in part by poor health behaviors, poverty, lack of health care access, low education levels, and low health literacy. Individuals with inadequate health literacy are less likely to participate in preventive measures such as obtaining screenings and making healthy lifestyle choices, thus increasing their chances of developing and dying from cancer. By increasing cancer literacy among youth and adults, it may be possible to decrease cancer disparities across Kentucky. This study aimed to establish connections with middle and high schools in Kentucky that would facilitate pilot implementation of a brief cancer education intervention and assessment of cancer health literacy among these student populations. A baseline pretest cancer literacy survey consisting of 10 items was given to 349 participants, followed by the delivery of a cancer education presentation. Immediately following the presentation, participants were given a posttest with identical items to the pretest. Participants were primarily Caucasian (89.4%), female (68.7%), and in 10th through 12th grade (80.5%). Significant (p < 0.0001) increases in both average and median percent of correctly marked items were observed between the pretest and posttest (average, pretest = 56% versus posttest = 85%; median, pretest = 60% versus posttest = 90%). The scores for all individual items increased after the brief intervention. The results demonstrated a significant increase in cancer literacy levels immediately after the pilot educational intervention. We suggest that it may be possible to improve cancer literacy rates in Kentucky by integrating cancer education into middle and high school science and/or health education curricula. This could ultimately drive changes in behaviors that may help lower cancer incidence and mortality rates. Plans for future interventional studies measuring long-term cancer knowledge retention and resultant behavioral changes among middle and high school students as well as the feasibility of integrating cancer education into middle and high school curricula are also discussed.
Potter, Samuel – listed as First Author in publication
Samuel Potter, Biology, Junior – listed as First Author in publication.
Potter, S., Krall, R.M., Mayo, S. Johnson, D., Zeidler-Watters, K., and Cooper, R.L. (2015). Population dynamics based on resource availability and founding effects: live and computational models. (In Press, The American Biology Teacher).
Tillson, Martha - listed as First Author in publication
Martha Tillson, Justin C. Strickland & Michele Staton (2017) Age of First Arrest, Sex, and Drug Use as Correlates of Adult Risk Behaviors Among Rural Women in Jails, Women & Criminal Justice, 27:5, 287-301, DOI: 10.1080/08974454.2017.1291392
Abstract
Incarcerated women frequently report initiation of substance use and sexual encounters at an early age, and often engage in high-risk drug use and sexual behaviors as adults. This study examined the timing of first sex, drug use, and arrest, as well as their unique influences on specific risky behaviors in adulthood, among a high-risk population of rural women recruited from jails. Ages of initiation were all positively and significantly correlated, and each independently increased the likelihood of several risky behaviors in adulthood. Implications are discussed for screening, intervention, and treatment targeting high-risk women and girls in rural areas, particularly within criminal justice settings.
Keywords: risk behaviors, rural, incarcerated, women, initiation
Maya Woolfolk
Presented research at The Annual Biomedical Research Conference for Minority Students (ABRCMS) 2019 Conference in Anaheim, CA.
"This opportunity was beneficial to me because I was able to gain experience presenting my research in a setting with experts from my discipline. I was also able to network with potential graduate programs and attend exciting research seminars. Research has contributed to my undergraduate experience by allowing me to think critically and ask questions in an environment outside of the classroom. Learning research skills has given me a more well-rounded education." - Maya Woolfolk, Biology major, UK Class of 2020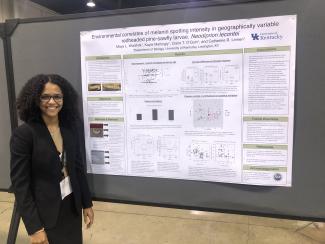 Nicholas Graves
Presented research at The Annual Biomedical Research Conference for Minority Students (ABRCMS) 2019 Conference in Anaheim, CA.
"I had a great time presenting my research at the ABRCMS 2019 Conference in Anaheim, CA. This opportunity granted me the chance to travel to another part of the country and learn about new research students are working on. This was also a chance for me, an introvert at heart, to step out of my comfort zone and learn in a new environment." - Nicholas Graves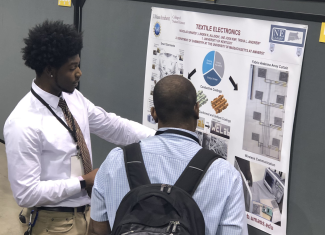 Claire Crosby
Presented research at the 2019 Southeastern Regional IDeA Conference.
"While attending the 2019 Southeastern Regional IDeA Conference, I was able to listen to great presentations about current research in a variety of different fields including biotechnology, cancer research, and clinical and translational science. Also, the conference allowed me to attend workshops to better develop my professional skills including a grant writing workshop. At the end of the conference, I presented my undergraduate research in a poster session. While presenting my poster, I received valuable feedback and insight on my project and also networked with other professionals in the scientific community." - Claire Crosby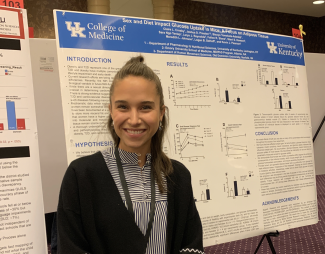 Lucas Barrett - 2019 Summer Research Fellow
"My summer experience was phenomenal. Dr. Osborn was and continues to be everything I look for in a research mentor and provides advice, guidance, and knowledge at every opportunity. The skills and experience I gained this summer will be essential in helping me to matriculate to a fully-funded MD/PhD program after finishing my undergraduate degree and will allow me to fulfill my goal of becoming a leading physician-scientist who studies disease to improve patient outcomes and health."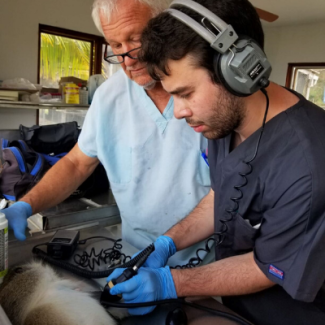 Emily Andreasson - 2019 Summer Research Fellow
"The experience of doing independent research with a faculty mentor has greatly enriched my undergraduate experience. It has given me the confidence to pursue greater knowledge in areas of personal interest even if there is not a class that can help me to explore those ideas. Furthermore, researching various forms of play, particularly nature play and contemplative play have allowed me to learn a lot about the value of things that I am passionate about –namely the environment and the importance of reflection." - Emily Andreasson, Interior Design major, 2019 Summer Research Fellow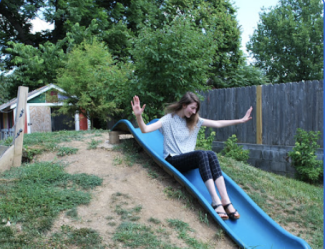 Bernardo Aguzzoli Heberle - 2018 Summer Research Fellow
"This summer research experience has contributed greatly to my undergraduate education and life goals. My career goal is to become a professor/PI and do research to help improve the lives of people who suffer from mental health and/or neurological diseases. Learning about epigenetic mechanisms in drug dependency opened my eyes to a whole new field of knowledge with many practical applications. In addition, working at PUCRS has also taught me to navigate the dynamics of lab team and how important it is for all the members to maintain clear lines of communication. While at PUCRS I also learned protocols for important biochemical assays such as RNA extraction, cDNA conversion, and PCR. Lastly, the main thing that I have taken from working at this summer project is that scientific research is the field of work I want to pursue; this summer project has motivated me even more to pursue my aspirations." - Bernardo Aguzzoli Heberle - 2018 Summer Research Fellow