Begin Your Research Journey Here.
The Office of Undergraduate Research (OUR) will coordinate communications and announcements about research opportunities in the colleges. Our office provides and coordinates workshops and skills training and presentation opportunities to showcase your hard work. We have student leadership opportunities, too!
Step 1: Register with OUR.
Undergraduate Research Starts Here.
Connecting with the Office of Undergraduate Research (OUR) is the first step in getting involved in research activities at UK.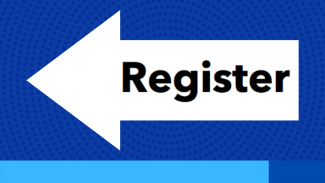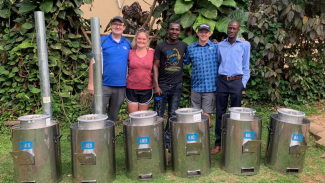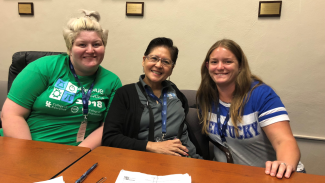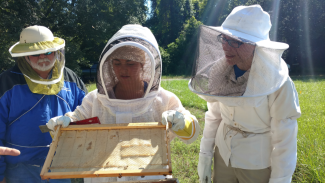 Step 2: Identify Your Interests.
Ask yourself these questions:
✔️ What are my interests?
Do you have a specific area of research in mind - e.g., cancer, archeology, political science, theatre, music theory, etc.?

Which subject areas or topics in your classes most interest you?
✔️ How much time can I devote to undergraduate research?
You should plan to spend an average of 7-10 hours per week engaged in undergraduate research - time commitments vary between disciplines and projects

Preferably you will commit 2 consecutive semesters (e.g. fall and spring; spring and summer; fall and spring; summer and fall)

Do you have time to balance your academics and participate in research?
Step 3: Finding a Research or Creative Opportunity.
✔️ Review Faculty's Research Interests and Focus. 
✔️ Visit the Undergraduate Research + Creative Experience Expo
On Sept. 11, 2023, the Undergraduate Research + Creative Experience Expo will introduce undergraduate scholars to the diversity of research conducted at UK, allow students to network with research faculty and staff, and learn about mentored research opportunities.

View participating Colleges, Departments, Centers, and Programs.
Step 4: Connect with Faculty.
✔️ Sending a Personalized Message to the Faculty Member
Be professional! Keep it short and to the point.

Include: a very brief bio about yourself, a statement about why you are interested in their research, that you would like to find out more about the possibility of working with them, provide your availability to begin, and be sure to ask for an appointment to meet with them.

Do not send out template emails. Personalize each one.

Limit your emails to 2 faculty within the same department.

Wait for a response. 
✔️ Communicating with Professors
Professors want you to engage yourself in extra-curricular activities. Even if they don't have space available immediately, you won't be criticized for inquiring.

It may be helpful to find out when the professor holds office hours. Sometimes a face-to-face visit is more effective than an email.

Always address faculty who hold PhDs as "Dr." - If you know the faculty does not have his/her PhD, refer to them as "Professor."

Proofread your email before sending it. Poor grammar or spelling does not set a good first impression. Read your email at least once before sending it.

Do not use abbreviations, slang, or sarcasm. Do not write emails to professors with the same verbiage you would use to talk to your friends.

It is best to use your UK email address, but if you use an alternate email, be sure you have your UK email forwarded so that you don't miss important announcements or correspondence. When faculty or staff initiate email communication, they will likely use your UK email address.
Step 5: Meeting with a Potential Faculty Mentor.
Before going to an interview, do your own research on the faculty member and what he/she is researching.  Write down a few questions to ask during your interview.
✔️ Examples of Questions to Ask During an Interview
Remember, you are trying to find out if it is a good fit for you too!
What type of research projects are you currently working on? Do you have more than one?

How did you become interested in this research topic?

How many undergraduate students are you mentoring at this time? How would you describe your mentoring style?

If I were to join your team, what type of research would I be doing? What would be the expectations? What would be the time commitment?
Understanding Student and Faculty Mentor's Expectations. 
Establishing clear expectations about work schedules, responsibilities, and communication is an important first step in making sure that the faculty mentor/mentee relationship goes smoothly.
✔️ Questions to Discuss:
Who will you be reporting to? 

What will your specific duties be? How will you be trained?

How many hours a week does the faculty mentor expect you to work on the project? Outline what blocks of time, hours of the day, or hours per week you will work.

What is the best way for you to contact the mentor with questions? What is their preferred communication - email, face-to-face, Zoom, or phone call?

How often will you meet with the mentor?  Should you do anything to prepare for these meetings (e.g. progress notes, updates on training certifications, etc.)?

When should you get help from the graduate student mentor, and when should you contact the faculty member? (if applicable)

Work with your mentor to set short-term and long-term goals and deadlines for the different stages of the project.

What additional books or articles do they recommend that you read? Take faculty member's suggestions seriously and let them know that their time with you is well-spent.
Always express your thanks after the faculty member has taken the time to meet with you. 
Step 6: Enjoy the Full Research Experience.
Share Your Research. Expand Your Research Experience. Be a Leader.
Once you're engaged in an undergraduate research experience, the Office of Undergraduate Research offers funding programs, presentation opportunities, and student leadership positions for undergraduate research students. 
✔️ Presenting your research provides you with an important opportunity to share your findings and results with other students and faculty and gain valuable feedback on your work, as well as practice your public speaking skills. Discover Presentation Opportunities.
✔️ Leadership opportunities are available for undergraduate researchers who have engaged in research for a minimum of 2 semesters and have participated in at least one OUR program. Undergraduate Research Ambassadors are a team of students with experience in undergraduate research or other scholarly partnerships with faculty who work to help other students pursue and excel in these experiences. Undergraduate Research Ambassadors participate in outreach activities such as OUR Workshops and Skills Training (e.g. Poster Design, How to Write an Abstract, etc.), and speak at the annual Showcase of Undergraduate Scholars. 
Undergraduate Research: Engage in world-class research across all disciplines at the University of Kentucky.