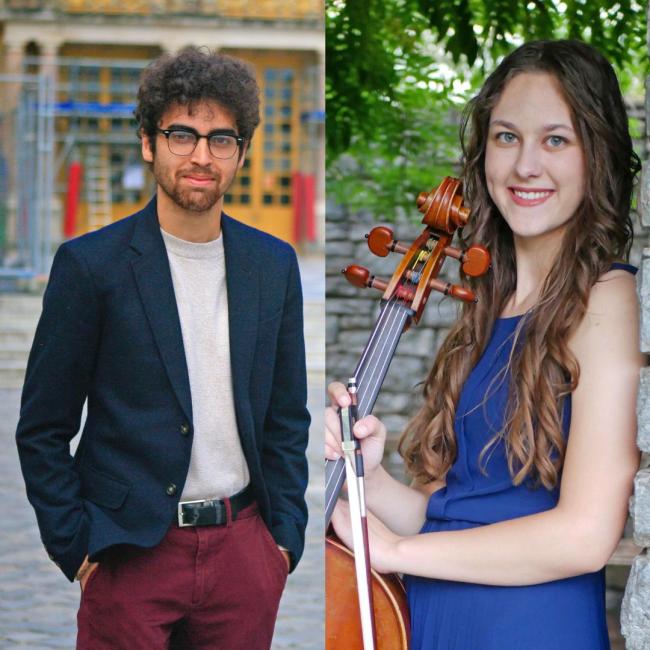 UK Libraries Recognizes Two Seniors for Excellence in Undergraduate Scholarship
UK Libraries is proud to recognize seniors Seth Garcia and Anna Watrous with the 2023 Dean's Award for Excellence in Undergraduate Scholarship. The annual prize celebrates exceptional and original scholarship in a traditional paper and a media or digital project, and is awarded to students whose research makes substantive and creative use of UK Libraries' collections, services, and resources.
Seth Garcia, 2023 Dean's Award Recipient, Traditional Paper
Seth Garcia, a History, Anthropology, and Secondary Social Studies Education triple major, was awarded for his paper, "A Peculiar Institution: White Supremacy and the Black Guides of Mammoth Cave."
Analyzing mid- to late-19th century diaries, guidebooks, and travelers' accounts, Garcia critically examined the white perspective of enslaved and emancipated Black guides at one of the United States' earliest major tourist attractions. Working under the mentorship of Dr. Kathryn Newfont, Associate Professor of History, Garcia found that despite being empowered by their environmental expertise, the guides' occupation became part of a racialized performance put on for white visitors as their lives remained controlled by white supremacy. 
Research for Garcia's project was conducted using ExploreUK, an important gateway to UK Libraries' extensive holdings of archival and primary source materials.
Garcia describes coming across a tourist guidebook on ExploreUK and being struck by a passage: "As soon as I read that blurb, the gears started turning. The project was born out of the jolt I felt reading that single page."
Seth wrote the paper for Dr. Newfont's History capstone course, Kentucky Woods and Waters. "The framing of the course really enables students to take advantage of the resources at UK Libraries," she said. "Matthew Strandmark and Jennifer Hootman have always been such a wonderful help to the senior seminar. They make themselves available and offer to work one on one with the students. The students who take them up on their offer are rewarded with excellent research support. They are research magicians."
"I had never used ExploreUK before, but we took a class visit to the Special Collections Research Center and Matthew Strandmark introduced us to several research tools. That visit really demystified the research process," said Garcia. "ExploreUK made the research process very easy. Everything was digitized, which meant I could conduct my research anywhere and anytime. With everything I needed at my fingertips, I was able to focus solely on the research, which helped make the process incredibly exciting. I wish more students knew about these tools. I found so much that was so fruitful."
"The work Seth is doing is true undergraduate scholarship," said Dr. Newfont. "Other scholars have written about the Black guides of Mammoth Cave, but no one has taken seriously their environmental expertise in the way that Seth did, while also taking seriously the role of white supremacy in shaping their lives, and in framing them as racial performers for white visitors."
Such a framing allowed Garcia to take a long view that is unique among scholarship surrounding the guides, said Dr. Newfont, tracing their story from slavery to freedom to the cave's designation as a National Park in the 1940s, when it became a "whites only" place. "Seth's paper shows the way the federal government closed the door on a long lineage of black expertise at Mammoth Cave."
"With the resources available through our libraries, we have such an excellent opportunity to promote innovative undergraduate scholarship in the humanities," said Dr. Newfont. "We should be encouraging undergraduate scholarship at the level that Seth Garcia is producing it. Undergrads coming to UK have the opportunity to pursue research that will advance scholarship and truly push forward what is known. Seth, given that opportunity, grabbed it with both hands and ran with it all semester. I am absolutely delighted he won this award. It was richly deserved."
Garcia plans to pursue a PhD in History or Anthropology and continue studying the tourism industry.
Anna Watrous, 2023 Dean's Award Recipient, Media Project
Anna Watrous, a Music Education and Arts Administration double major, was awarded for her media project, "An Exploration and Performance of Underrepresented Composers for Cello." 
Watrous researched the lives and work of composers typically marginalized within western classical music and performed several of their pieces in her senior recital in November, 2022. The hour-long recital included solo cello music, chamber music, and a song on the violin, and highlighted the work of Joseph Bologne Chevalier de Saint-Georges, José L. Elizondo, Bernadette Farrell, and Dame Ethel Smyth. 
"As I was preparing for my senior degree cello recital last summer, I realized that all the composers I planned on programming were famous composers that were white men," said Watrous. "As a woman cellist, teacher, and arts advocate, I knew this was not the story that I wanted to tell through my recital. I realized that there was no reason to wait until after graduation when I was 'finished learning' to be an advocate for those underrepresented in the arts, I could start with this recital."
"It's easy in music to perform the tried and true repertoire," said Benjamin Karp, Professor of Cello and Anna's long-time mentor. "It's a body of literature that students need to master, but Anna was not satisfied going that route. This choice really emphasizes what defines Anna as a student. She is an absolutely tireless worker. She's well-organized, intelligent, and exceptionally talented. She always does the maximum, and these qualities all come through in her project."
Watrous said that Karp encouraged her to turn to resources at the Lucille Caudill Little Fine Arts Library to conduct research and to prepare for her recital. "The Fine Arts Library has always been a hidden gem of the university" said Karp. "The holdings of the library are fabulous, and the staff, particularly Paula Hickner, is such an amazing resource. I've been teaching at UK for 30 years and I have yet to request a work that librarians have been unable to find. They are relentless, they track down everything. The library is a wonderful benefit to my studio, my teaching, and all of my students."
"I was able to use many different databases that highlighted diverse composers and their amazing music, and that also helped me learn a lot about their lives," said Watrous. Fine Arts Library resources helped Watrous not only to discover composers, but also to check out copies of compositions that would have been expensive to buy.
"The library makes these resources easy to access," said Karp, "and Anna was able to mine them for some fascinating repertoires, from a living Hispanic composer who is doing very exciting work to a female composer from the early 20th century who I had never heard of. I learned a lot from Anna's project." 
During Watrous's preparation for the performance, Karp gave weekly cello lessons, coached her string quartet, and attended countless rehearsals. "I truly could not have accomplished this without him," she said. 
After graduating, Watrous plans to teach music in Lexington while pursuing an online Master's in Public Policy and Administration from Colorado State University. "I hope to continue to inspire my students through learning diverse music and work hard to create an inclusive environment that every single person can feel a part of," said Watrous. "I try to incorporate this into my teaching in many ways, from the pieces that we learn, to the music that we listen to, to the music that we perform at each concert."
"I was so happy for Anna to win this award," said Karp. "I can't think of anyone more deserving."
As Dean's Award recipients, Garcia and Watrous will each receive a $1,000 cash award, and their work will be published through UKnowledge, UK Libraries' open access digital collection of scholarship created by University of Kentucky faculty, staff, students, departments, research centers, and administration.
Garcia and Watrous were honored  at the annual Spring Celebration on May 11 alongside this year's recipients of the Medallion for Intellectual Achievement, the Paul A. Willis Award for Outstanding Libraries Faculty, and the Dean's Award for Outstanding Staff Performance
To learn more, or for information and updates on the 2024 application cycle, visit UK Libraries' Dean's Award page.