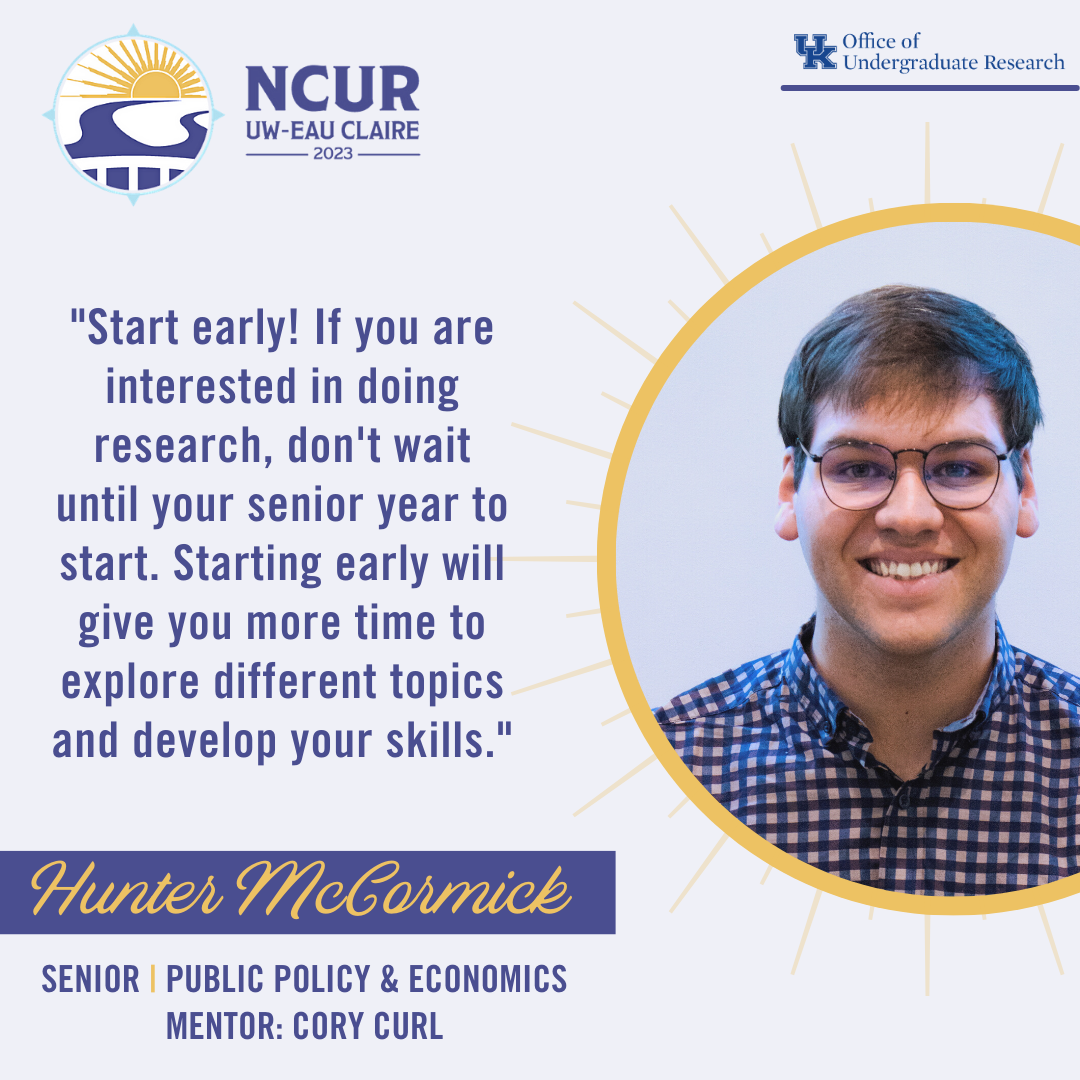 Hunter McCormick
NCUR 2023 Spotlight
Hunter McCormick
Senior, Public Policy and Economics major
Research Mentor: Dr. Cory Curl
I enjoy research because.... "I enjoy research because it provides me with the opportunity to delve deeper into complex economic and social issues, challenge my assumptions, and contribute to evidence-based solutions that have the potential to improve people's lives."
How did you first get interested in undergraduate research at UK?
"I was first interested in undergraduate research after participating in a service learning project with the nonprofit organization CivicLex researching what the public comment system was in cities similar to Lexington. I enjoy learning about new topics and uncovering evidence to issues which undergraduate research at UK has allowed me to do."
How long have you been engaged in undergraduate research?
"Three years."
What has been the most exciting aspect of your research so far?
"The most exciting aspect of my research so far is getting to share my findings with individuals who are interested in using my findings to produce real change and collaborating with my mentor to create contemporary ways to address research questions."
What advice would you give to other UK students thinking about doing research?
"1. Start early! If you are interested in doing research, don't wait until your senior year to start. Starting early will give you more time to explore different topics and develop your skills.
2. Find a mentor, Look for a professor or researcher in your field of interest who can guide you through the research process. They can help you develop your research skills and provide valuable feedback on your work.
3. Read about your topic. Reading widely about your topic area will give you a foundational understanding about the current state of your topic and where there are gaps in research."