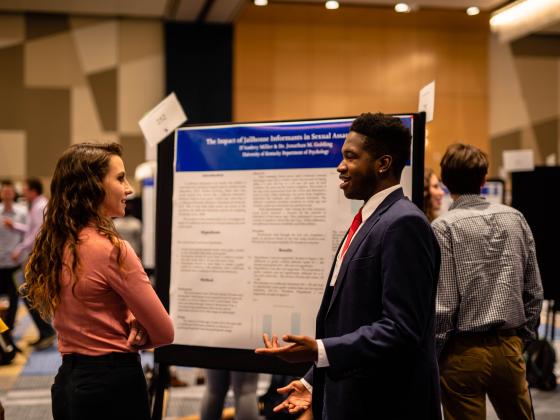 15th annual Showcase of Undergraduate Scholars
Celebrating Bold Dreamers and Strategic Thinkers.
The University of Kentucky Office of Undergraduate Research 15th annual Showcase of Undergraduate Scholars will take place virtually from April 27 - 29, 2021.  Join us in celebrating UK's undergraduate research through both synchronous and asynchronous virtual presentations over the course of three days.
The Showcase is a moment when we step back from our academic routines to celebrate the accomplishments of our students and encourage them along the path of intellectual achievement, as well as celebrate the inspiration and creativity of our undergraduate scholars and the dedication of their mentors. 
To participate in the Virtual Showcase, all attendees must register to receive access to the LIVE student presentations.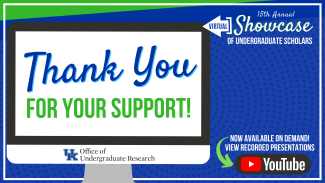 Showcase Attendee Registration
REGISTRATION NOW CLOSED. THANK YOU FOR YOUR SUPPORT!
Watch LIVE Student Presentations (200+ this year)
Participate in Post-Presentation Q&A
View Virtual Project Gallery
Congratulations to the 2021 Excellent Undergraduate Research Mentor Award Recipients
217
STUDENT PRESENTATIONS
The 15th annual Showcase includes over 200 student and team research presentations involving 333 student presenters
UK undergraduates will be showcasing their faculty-mentored research representing 50 academic disciplines
Showcase student presentations represent faculty-mentored research conducted in 16 Academic Colleges PLUS the UK Libraries' Special Collections Research Center's Learning Lab