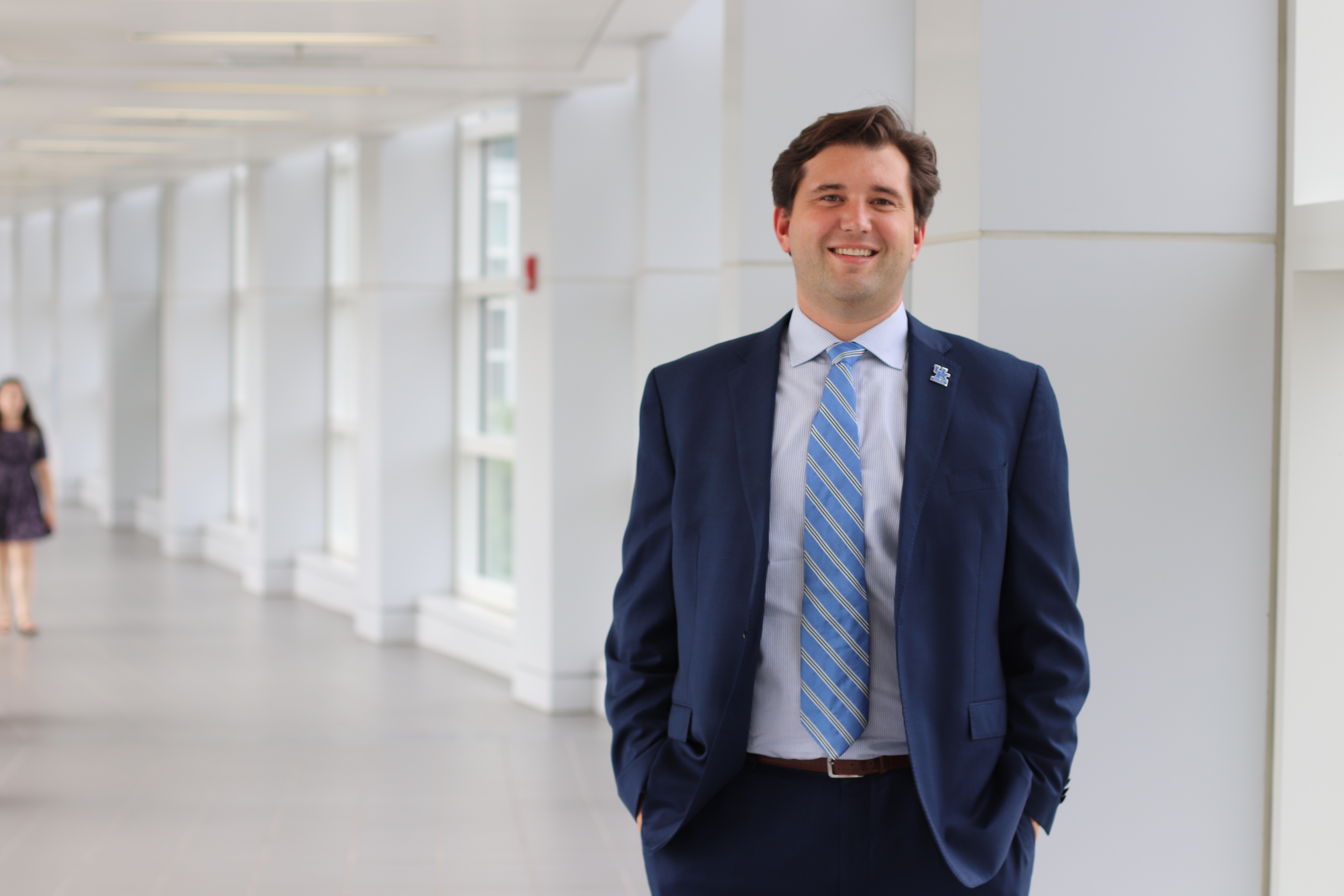 Faculty Mentor of the Week
Jake Higgins
College of Nursing | UK HealthCare
Dr. Jake Higgins is an Assistant Professor in the College of Nursing and is jointly appointed at UK HealthCare as a Nurse Scientist on the Trauma-Surgical Service Line. This role allows Dr. Higgins to remain actively engaged in clinical practice through facilitation of research, evidence-based, and quality improvement projects with clinical nurses caring for the trauma-surgical patient population. Dr. Higgin's clinical and research interests surround the trauma patient population; specifically, he is interested in understanding how hospitalization impacts the trajectory of functional and emotional recovery in patients after major injury. Additionally, he is interested in mitigation of hospital-associated complications in patients after injury. 
In the past year Dr. Higgins has mentored 4 undergraduate students.  Dr. Higgins explains that his approach as a mentor is to "let them choose a topic/project that they are interested in, and we work on it together. This gives me a chance to learn new things, and the students a chance to really take more of the driver's seat in the research process." His approach to mentoring has allowed him to mentor a diverse collection of student-led projects including, pressure injury prediction in critically ill trauma-surgical patients, predictors of concussive injuries related to horseback accidents, understanding nurses' attitudes / beliefs regarding the opioid epidemic, and student's knowledge and anxiety with active shooter scenarios. 
One of Dr. Higgins's mentees noted, "I hope that I can inspire others to love research just as much as Dr. Higgins has for me in my experience. He is creative in all of his approaches in making research something special and lots of fun, rather than just more added coursework. Research is no longer to me about just gaining more knowledge about a topic, it has changed the way I think and analyze information on a day to day basis. I now understand how research truly does benefit patients, families and their careers. I never knew how much this research experience would change me and my aspirations in life. " When asked what Dr. Higgins enjoys most about being a mentor, he replied, "When I see the student have that "aha" moment, and research stops being boring or a burden, but something that can be fun, enjoyable, and - most importantly - impactful."
In a twist of fate, Higgins explains how he lacked an interest in research as an undergraduate and how he now begins each semester by telling his junior research class the story of his journey with research, "I would have NEVER believed in a million years that I would end up with a research focused doctoral degree, conducting research and teaching the research/evidence-based practice course in the nursing program. But from where I am now, I couldn't imagine my career going in any other direction!" Research is transformative. For students considering undergraduate research, Dr. Higgins looks for students who are eager, "If a student is excited about a topic or project then I think the intimidation and dread of research melts and we can have fun with it."  
Dr. Higgins offers these words of wisdom to students thinking about engaging in research: "You don't know what you don't know! If you have an opportunity to jump in on something you find interesting or intriguing – go for it! Don't sell your abilities or yourself short."
Thank you Dr. Jake Higgins for your unwavering support of undergraduate research at the University of Kentucky. We are pleased to recognize your dedication this week as our Research Faculty Mentor of the Week.