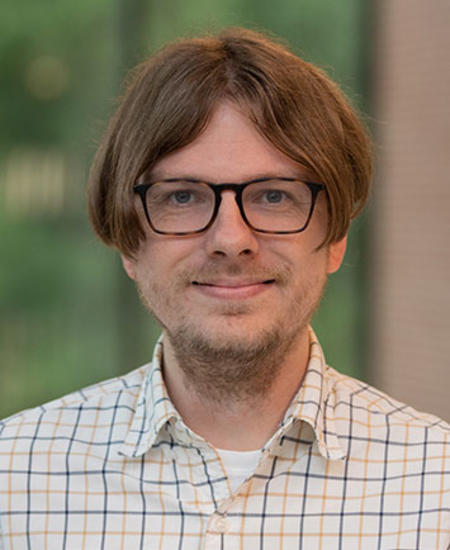 Faculty Mentor of the Week
Brent Harrison
College of Engineering, Computer Science
Dr. Brent Harrison is an Assistant Professor of Computer Science in the College of Engineering and Director of the CORGI (Computational Research in Games and Intelligence) Lab. Dr. Harrison's research interests include Artificial Intelligence, Machine Learning, Autonomous Agents, Game Design, and Computational Storytelling. Specifically, he is interested in creating AI and ML systems that can effectively communicate and co-exist with humans and society at large. 
In the past year Dr. Harrison has mentored 10 graduate students, 2 undergraduate research students, and many more during independent study programs.  Dr. Harrison includes them in many aspects of the research process - from building sophisticated machine learning models that can communicate with humans to designing virtual worlds for evaluating these systems and running evaluations in which humans directly interact with these systems. One of Dr. Harrison's mentees noted, "His enthusiasm for student learning shines through in both his teaching and his research mentorship. He is the model I base my goals off of when thinking of the type of researcher and professor I would like to one day become." Dr. Harrison's exposure to research as an undergraduate changed his entire career path. As a sophomore, on the first day of class his professor talked about his research and invited interested students to stop by his office to talk with him about the opportunity, "Well, I did and that day he tasked me to code up a genetic algorithm for solving the traveling salesman problem. From that point on I was hooked."
Dr. Harrison highly values a strong mentoring model in his lab and explains, "My absolute favorite thing about being an undergraduate research mentor is being able to introduce students to an aspect of, in my case, computer science and university life that they may not have been aware of. I remember when I was an undergraduate, being introduced to research changed my entire career trajectory. This is something that I love being able to do for current students."  Dr. Harrison looks for prospective mentees who exhibit enthusiasm and a little stubbornness. "Research isn't easy, and there can be many times when it feels like you're making absolutely no progress. That's just how research goes sometimes. It's in these cases that enthusiasm for your work, as well as the stubbornness to not give up, that will help you break through." 
For a student who might be considering undergraduate research, Dr. Harrison offers the following words of advice, "Don't be afraid to ask what professors are up to. I remember, when I was an undergraduate, thinking that professors were these unapproachable figures that you shouldn't talk to. It turns out that's not the case! If you're interested in doing research with someone, talk to them. Chances are they'll be more than happy to talk to you (sometimes maybe a bit too much) about their work."  
Thank you Dr. Brent Harrison for your unwavering support of undergraduate research at the University of Kentucky. We are pleased to recognize your dedication this week as our Research Faculty Mentor of the Week. 
Dr. Brent Harrison | College of Engineering, Computer Science