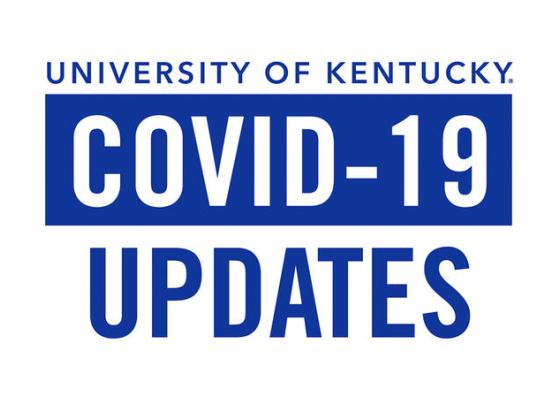 COVID-19 Updates For High School Students, Human Participants and Site Monitors at UK
COVID-19 Updates For High School Students, Human Participants and Site Monitors at UK
Dear Colleagues,
The safety and health of our research community is our priority. We understand due to the recent rise in COVID-19 cases, you have questions about potential policy changes. 
We are currently conducting research at UK at 100% capacity. We are not in a limited capacity as was prescribed in our previous Resumption of Research Phased Plan, which we ended in June 2021. 
Vaccination remains our most powerful tool in battling this pandemic. We encourage all members of our community to get vaccinated.
We are continuing to follow university guidance with respect to the COVID-19 pandemic - masking and distancing as much as possible by limiting numbers of people in close proximity in our research settings. 
To assist you in continuing research in your settings as safely as possible, we have updated the FAQs on our COVID-19 Guidance For Researchers site to answer pressing questions on topics that you have sent our way, including high school students in research laboratories, research with human participants, and vendor and site monitor policies. 
In general, if you are conducting research that is NOT taking place at a UK HealthCare facility, you must follow institutional guidance for masking, distancing and testing presented in the Fall 2021 Guidebook.
If you are conducting research at UK HealthCare facility, you must follow UK HealthCare requirements as described under Tier 4. 
Please take a few moments to review the new FAQs. In coordination with the University of Kentucky Screening, Testing and Tracing to Accelerate Restart and Transition (START) team, research leadership will continue to evaluate our policies. 
If you have questions or concerns related to COVID-19 research operations, please contact the Office of the Vice President for Research at research-covid@uky.edu.
Lisa A. Cassis, PhD Professor, Department of Pharmacology and Nutritional Sciences Vice President for Research University of Kentucky